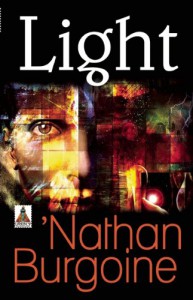 4-4.5 Stars. Goodreads really should look into half stars. This book was so much fun. I mean it. Fun x40andahalf. Kieran is a massage therapist by day and accidental super hero... by day and night when he uses is telekinetic powers to save the LGBT citizen of Ottawa from a villain with similar capabilities.

This is Burgione's first full length novel. I've inhaled this book in one day. I haven't done that in a while. The pacing is excellent. The plot is excellent. I mean a gay guy uses his powers to say other LGBT folks and pride week from an evil asshole. It's pretty cool. There's also a romantic subplot that made me giggle like an idiot. And a lovable dog. Pretty much, Burgione gave me everything I wanted in this book. The writing is so vivid that Light became a piece I instantly wanted to see on film. It's good.

My only issue and why you're seeing that 4-4.5 up there and not 5 came from the character Miracle Woman. She comes across as a magical negro. I think she would have been better served if she was white and maybe he'd made Karen, Kieran's best friend who has more of a fleshed out life, black. I have no doubt in my mind that Miracle Woman is an awesome character, but her actions and motivations missed key points in the black experience that lend to the appearance of the magical negro. Pretty much we don't go around helping white people. In this case I know there was no malicious intent on the part of the author, but I bristled every time she popped up.

That said, I am jazzed for Burgione's next piece. Jazzed I say.